Matchbooks
Personalized Matchbooks are an inexpensive, useful and easy to distribute promotional product. Many people enjoy collecting and even trading matchbooks making them popular with customers and means your advertising becomes a collector's item.
Matchbooks Cheap 30-strike | Wholesale pricing | Free Quotes
30-stick custom matchbooks are packed in cases of 1000 books. Minimum order is one case, or 1000 books. Available colors are:
Red and blue print on white
Positive print of red, blue, green or black on white
Reverse print of white on red, blue, green or black
Color assortment of black print on white, yellow. red, green and blue
Brown on beige (positive)
Beige on brown (reverse)
Burgundy on gray (positive)
Gray on burgundy (reverse)
Black on gold foil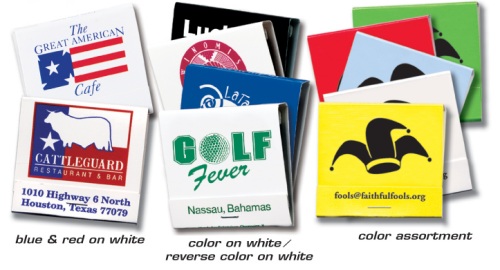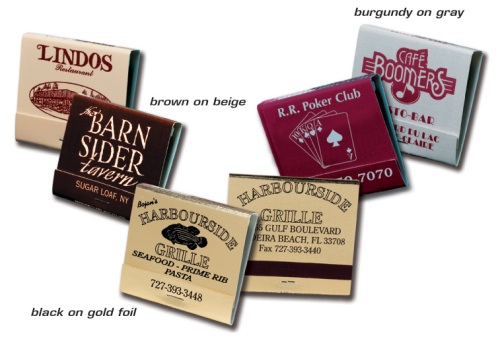 Quantity Customized Printed Matchbooks
1000 Books
1 Case
2000 Books
2 Cases
4,000 Books
4 Cases
10,000 Books
10 Cases
20,000 Books
20 Cases
Stock Colors on White
Black on Color Assortment
Brown on Beige
Burgundy on Gray

$98.60
per Case

$93.41
per Case

$87.20
per Case

$80.95
per case

$77.80
per case

Reverse Stock Colors on White
Reverse Black on Color Assortment
Reverse Brown on Beige
Reverse Burgundy on Gray

$113.19
per Case

$107.00
per Case

$101.78
per Case

$95.53
per Case

$92.38
per Case

Black on Gold Foil

$109.06
per Case

$102.88
per Case

$97.65
per Case

$91.41
per Case

$88.26
per Case

Blue & Red on White (2-color)

$126.92
per Case

$121.74
per Case

$116.52
per Case

$110.27
per Case

$106.12
per Case
An additional $35 non-refundable artwork layout charge must be paid before work can begin.
To see our Book Matches Book Matches 20-stick Custom options, click here Book Matches Cheap. For a more Match Books, see our Foil Covers hereCustom Printed Match Books .
Heritage Advertising, Inc.
4100 Bob Wallace Ave SW
Huntsville, AL 35805
Telephone: 706-374-0710
Email:


The first "friction match" was invented by English chemist John Walker in 1826. Early work had been done by Robert Boyle and his assistant, Godfrey Haukweicz in the 1680s with phosphorus and sulfur, but their efforts had not produced useful results. Walker discovered a mixture of antimony(III) sulfide or stibnite, potassium chlorate, gum, and starch could be ignited by striking against any rough surface. Walker called the matchbooks congreves, but the process was patented by Samuel Jones and the matches were sold as lucifer matches. The early matches had a number of problems - the flame was unsteady and the initial reaction was disconcertingly violent; additionally, the odor produced by the burning match was unpleasant. It is described as a firework odor. Despite these problems, the new matches were responsible for a marked increase in the number of smokers. Lucifers reportedly could ignite explosively, sometimes throwing sparks at a considerable distance. In the Netherlands matches are still called lucifers.
In 1830, Frenchman Charles Sauria added white phosphorus to remove the odor. These new cheap matchbooks had to be kept in an airtight box but were popular. Unfortunately, those involved in the manufacture of the new matches were afflicted with phossy jaw and other bone disorders, and there was enough white phosphorus in one pack to kill a person. There was a vociferous campaign to ban these matches once the dangers became known.
Deuteronomy 10:1-5, 8
1 At that time the LORD said unto me, Hew thee two tables of stone like unto the first, and come up unto me into the mount, and make thee an ark of wood.
2 And I will write on the tables the words that were in the first tables which thou brakest, and thou shalt put them in the ark.
3 And I made an ark of shittim wood, and hewed two tables of stone like unto the first, and went up into the mount, having the two tables in mine hand.
4 And he wrote on the tables, according to the first writing, the ten commandments, which the LORD spake unto you in the mount out of the midst of the fire in the day of the assembly: and the LORD gave them unto me.
5 And I turned myself and came down from the mount, and put the tables in the ark which I had made; and there they be, as the LORD commanded me.
8 At that time the LORD separated the tribe of Levi, to bear the ark of the covenant of the LORD, to stand before the LORD to minister unto him, and to bless in his name, unto this day.
am