Fixed Blade Pocket Screwdrivers with your customized imprint
Promotional pocket screwdrivers with a custom inprinted message are a useful advertising tool that everyone appreciates. Promote your name or business with personalized long lasting advertising printed on one of our many screwdriver or other promotional tools.
Give us a call (706-374-0710) for a FREE quote and to put our years of promotional and advertising experience to work for you.
Pocket Partner Fixed Blade Screwdriver
| | |
| --- | --- |
| Pocket Screwdrivers | Additional Fixed Blade Pocket Screwdriver Tool Options |
Screwdriver Specifications
The world's favorite pocket screwdriver. Great for all industries. Five blade options (regular blade is standard) - match the right tool with the right industry. 18 top options provide additional functions for specialized applications. Handy pocket clip.
Regular blade and top button are standard.
Handle Colors for Fixed Blade Pocket Screwdriver

Handle colors available in black, blue, green, orange, red, silver metallic, white, yellow or translucent blue.

Button Top Colors

Standard button top colors are: pink, blue, white, green, red or black.

Standard Tool Tops

Select any of the following standard tool tops to build a custom pocket screwdriver to fit your needs:

- Magnet

- Valve Stem

- 7/32" Slotted

- #0 Phillips

Specialty Tool Top Option #1

These additional top options allow you to further create the custom pocket screwdriver to fit your needs:

- Micro Blade

- #10 Star

- #15 Star

- Hex Nut Driver

- Jeweler's/Eyeglass

- Cutter

- Dip Switch

- 1/4" Slotted

- #1 Phillips

- #2 Phillips

- Awl/Hole Punch

Specialty Tool Top Option #2

For even more options to build the custom pocket screwdriver for your needs, the following options are available also:

- Straight Hex

- Hex Key

- Bottle Opener

Special Blade Options

Other optional specialty blades are available for an additional charge:

- Electrician

- Phillips

- Technician

- Slim (available with white barrel only).
Pocket screwdriver size is 5.50" long x .40" wide with Button Top. Imprint area on handle is 2.00" long x 0.94" high with optional second side imprint (for an additional charge).
Per Piece Prices for Pocket Scewdrivers with Fixed Blade, Item #AX2035
1-Side/1-Color Custom Imprint
Quantity Promotional Screwdrivers
1-side/1 standard color imprint

200

500

1500

2500

Standard: Regular Blade with
Button Top

0.83

0.77

0.74

0.71

Regular Blade with Standard Tool Top Option

1.30

1.27

1.23

1.17

Regular Blade with Special Top #1 Option

1.78

1.72

1.67

1.61

Regular Blade with Special Top #2 Option

2.06

2.02

1.96

1.88

Special Blade Option with Button Top


1.21

1.18

1.13

1.09

Special Blade with Standard Tool Top Option

1.74

1.69

1.64

1.58

Special Blade with Special Top Option 1

2.21

2.17

2.10

2.01

Special Blade with Special Top Option 2

2.57

2.46

2.38

2.28
An additional $45 non-refundable artwork charge per imprint position and standard color must be paid before work can begin. For pricing on multiple locations or more than 1-color, please contact us 706-374-0710 for pricing.
Standard Imprint Colors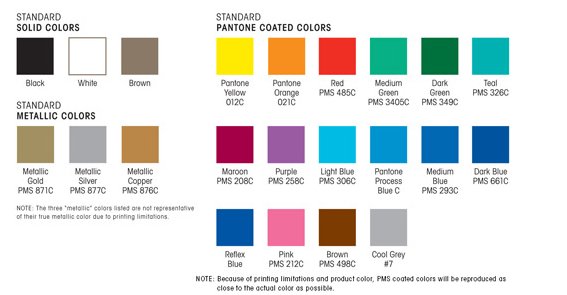 If a color other than our standard imprint colors above is needed, be sure to specify the PMS coated color number. Contact us for additional charges for custom colors.
For additional choices in screwdrivers, visit:
Pocket Screwdriver Tool with Reversible Blades
Screwdriver Tool Set With Flashlight and Tape Measure
Sabertooth T-Driver Screwdriver Set
Other Promotional Tools Index




Heritage Advertising, Inc.
4100 Bob Wallace Ave. SW
Huntsville, AL 35805
Telephone: (706) 374-0710
Email:





American Minute with Bill Federer

December 15

Newly independent, the thirteen States were concerned their new government may become too powerful, as King George's was.

They insisted handcuffs be place on the power of the Federal Government. We call these the First Ten Amendments or Bill of Rights, ratified DECEMBER 15, 1791.

The First states: "Congress shall make no law respecting an establishment of religion, or prohibiting the free exercise thereof; or abridging the freedom of speech, or of the press; or the right of the people peaceably to assemble, and to petition the Government for a redress of grievances."

Regarding this, Thomas Jefferson wrote to Samuel Miller, January 23, 1808:

"I consider the government of the U.S. as interdicted by the Constitution from intermeddling with religious institutions, their doctrines, discipline, or exercises.

This results not only from the provision that no law shall be made respecting the establishment or free exercise of religion, but from that also which reserves to the states the powers not delegated to the U.S."

Jefferson continued:

"Every religious society has a right to determine for itself the times for these exercises, and the objects proper for them, according to their own particular tenets."



alx