Custom Screwdrivers Imprinted with your message
Promotional screwdrivers with a customized message are a useful advertising tool that everyone appreciates. Promote your name or business with personalized advertising printed on one of our many screwdriver tools. Give us a call at: 706-374-0710 - for a Free quote and assistance in selecting the best screwdriver or other customized tool for your promotional needs.
Screwdriver Set with a custom imprint
Patented folding T-handle generates five times the torque of conventional screwdrivers. Unique swivel design for maximum leverage in a convenient pocket size. This 9-in-1 tool contains six screwdrivers plus three 0.25" hex drivers along with three dual-ended bits: three slotted and three Phillips tips. Includes a handy pocket clip. Anodized aluminum finish available in two color options: blue and red.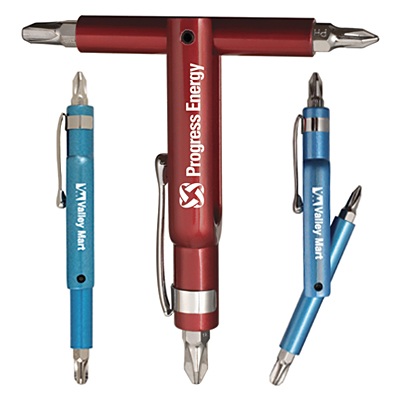 Sample Screwdriver Set with custom imprint


Sabertooth T-Driver is 5.25" long x .63" wide. Imprint area on handle is 1.5" long x .30" high with optional second side imprint (for an additional charge).

Per Piece Prices for Sabertooth T-Driver Screwdriver Set, Item #AX2510
1-Side/1-Color Imprint
Quantity Screwdriver Sets

100
250
500
1000
Sabertooth T-Driver
1-side/1-color imprint
9.30
9.11
8.86
8.61

An additional $45 non-refundable artwork charge per imprint position and color must be paid before work can begin. For pricing on multiple locations or more than 1-color, please contact us 796-374-0710 for pricing.

For additional choices in promotional screwdrivers give us a call or visit:

Promotional Screwdrivers Pen Style

Screwdriver Tool SetWith Flashlight and Tape Measure

Sabertooth T-Driver Screwdriver Set

We also offer many more custom promotional tools.







Heritage Advertising, Inc.
4100 Bob Wallace Ave. SW
Huntsville, AL 35805
Telephone: (706) 374-0710
Email:





American Minute with Bill Federer

November 20

On June 25, 1962, the Supreme Court stopped school prayer.

Ronald Reagan said, March 6, 1984:

"From the early days of the American colonies, prayer in schools was practiced and revered as an important tradition. Indeed, for nearly 2 centuries of our history it was considered a natural expression of our religious freedom. Then in 1962, the Supreme Court declared school prayer illegal."

Reagan continued:

"Well, I firmly believe the loving God who has blessed our land and made us a good caring people should never have been expelled from America's classrooms."

Senate Majority Leader Robert Byrd, who was born NOVEMBER 20, 1917, agreed, stating:

"In no other place in the United States are there so many...official evidences of...faith in God on the part of Government as there are in Washington...

On the south banks of Washington's Tidal Basin, Jefferson still speaks:

'Can the liberties of a nation be secure when we have removed a conviction that these liberties are the gift of God? Indeed I tremble for my country when I reflect that God is just, that his justice cannot sleep forever.'"

Senator Robert Byrd concluded:

"Jefferson's words are a forceful and explicit warning that to remove God from this country will destroy it."

ax