Political Campaign Products, signs, bumper stickers, palm cards and more!
We offer three different sign materials for your Political Campaign Sign products:
Corrugated Plastic Yard Signs Many different sizes available.
Cardboard Yard Signs material – Cardboard Yardsigns – Polycoat Plastic Coating
Click Above for our low prices and other information for cheap advertising.
Plastic Signs Bag material – Plastic Yard Signs Poly Bag
Click above for prices and other information
High quality political yard signs from the yard sign printer advertising specialist! Everything from political signs to your church signs. These lawn signs are made from three different materials:
Also check out our other campaign sign products:
SMALL QUANTITIES – For small quantities of signs 1 to 15, see our Real Estate Pages at: Real Estate Signs
Political campaign push cards are printed on 10 pt. white card stock. Use palm cards to print your campaign platform and conveniently pass along to voters. They also make great post cards for mailings.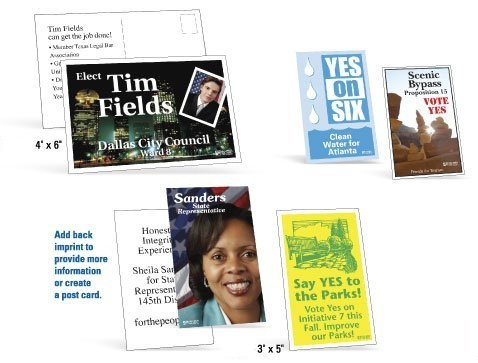 We offer a wide variety of Bumperstickers and Decals. Many different materials, sizes, shapes and print options available. We're sure to have what you need!

Choose from many designs and colors on our express and bulk order stickers.
A great solution for temporary needs, yet durable and long lasting too! These are easier to remove than regular stickers. Printed on .030″ magnetic material, these car magnetic bumper stickers have a powerful custom magnet grip. Choose from among 5 different shapes and sizes.
Great for door-to-door campaigning to let people know you stopped by! Print your name and message on these 3-1/8″ by 8-1/8″ door knob hangers. These are printed on either white tag stock or .015″ rigid white vinyl. Choose from several different designs.
An additional $20 non-refundable artwork layout charge must be paid before work can begin on the knob hangers. For logos and other artwork, add an additional $25.
Magnetic Car Signs at greatly discounted prices. Many sizes and shapes of car magnets are available. We have one to fit your advertising needs.
(Formerly Heritage Advertising)
Heritage – Signs, Frames and More, LLC
Telephone: 321-253-0424
Email: HeritageSignsLady@yahoo.com