Lawn Sign Stakes
These lawn sign stakes are 18″ inch long multi-purpose stakes. Made of 100% recycled material and manufactured in the United States.
Use Lawn Stakes for pest control lawn sign notices.
The most common use of display is for lawn and fertilizer companies to indicate the completion of lawn application. Displaying these signs using our Lawn Stakes protect children and pets with a warning to stay off the grass until safe.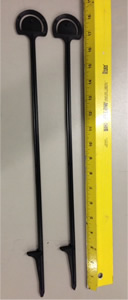 Other applications for versatile Lawn and Garden Stakes include:
Tree Service
Pesticide and Pest Control
Agriculture Seed and Fertilizer
Alarm Protection Service
Real Estate
Home Maintenance
Local Community Events
Charitable Events
Political
Golf Hole Sponsors
Lawn and Garden Stakes are great to use when displaying smaller signs. Great for marking a location of an Open House or Garage Sale.
Lawn Stakes are 18″ tall. Our Lawn Stakes are stronger due to the addition of fiberglass in the plastic mixture.
Price per Lawn Stake
Quantity
Price Each
500

$0.095

1000

$0.086
Heritage Signs, Frames and More, LLC