Box Cutters
Customized imprinted box cutters have many uses. Personalized retractable box cutting utility knives have safety shields to prevent accidents. Prices shown for logo utility knives include your personalized message on one side. Also available in 2, 3, and 4 color imprint.
Give us a call (706-374-0710) for a FREE quote.
Pocket Utility Knife with Retractable Blade
Pen sized retractable utility knife has thumb slide blade. Blades are divided in useful increments for easy breaking and sharp cutting power on demand.
Available in White, Yellow and Safety Orange – Custom Imprint Area: 1/4″ x 2″.
Item #CC-UK110
Quantity
200
400
800
1000
Utility Knife, Regular Price per Piece
$0.88
$0.76
$0.64
$0.56
Utility Knife, on Sale thru 2/15/21
$0.56
$0.54
$0.49
$0.43

221
Prices above include a 1-color customized imprint on 1-side. An additional $60 non-refundable artwork charge per personalized imprint position and color must be paid before work can begin.
---
Large Snap Box Cutter
8-section blade with locking slide. Removable slotted top safely breaks blades. Large snap blade cutters have a plastic body. Comes in white/grey. Item size is 6.38″ long x 1.38″ wide x .5″ deep. Imprint area is 2″ long x .44″ high.
Item #AX2021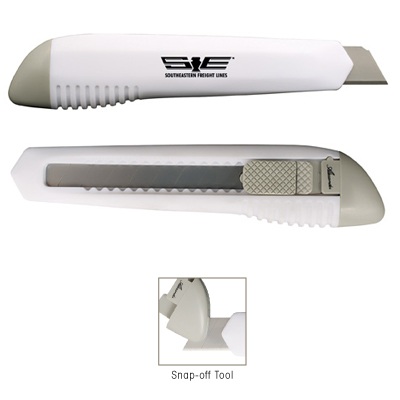 Quantity Box Cutters
200
500
1500
2500
Large Snap Box Cutters
1.47
1.46
1.44
1.37

121
An additional $55 non-refundable artwork charge per imprint position and color must be paid before work can begin.
We also have Blade Cutters and Scrapers