Promotional Mood Watch Bracelets that Change Color
Mood Watch Bracelets are a digital watch and a silicone bracelet in one! They come in one size that fits most. The Mood Watch is a bracelet made of soft silicone material that changes color with the heat of your hands. The Multi Function Display shows time, date and seconds counter.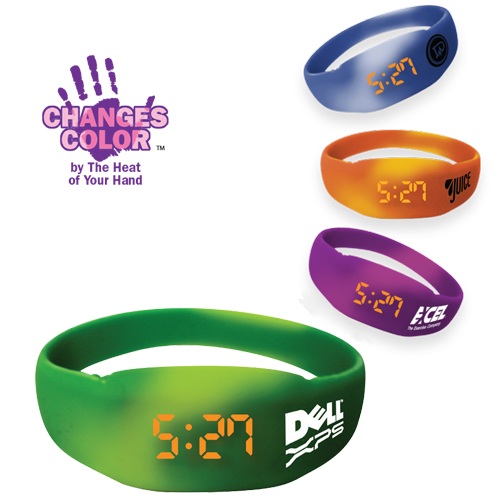 Item #AR45020
This product is a Tariff Target and prices may change. Contact us for current pricing.
Click here for current pricing on Mood Watch Bracelets
Mood Watch Bracelets are available in green to yellow, orange to yellow, blue to white, purple to pink.
Standard Imprint Colors provided at no extra charge: Black, White, Red, Light Blue, Medium Blue, Dark Blue, Light Green, Medium Green, Dark Green, Brown, Purple, Yellow, Teal, Orange, Maroon.
Size of Mood Watch Bracelets are 7-1/2″ circumference, 1/2″ band at face. Individually polybagged with instructions on bag. Warning: Severe weather conditions may effect the mood color change.
We offer many other Mood Products too.