Real Estate Signs and Stands
We offer many different real estate signs and stands as shown below.
Die Cut Signs
Custom die cut shaped signs are available as screen printed and full color corrugated yard signs. Great for long-term outdoor use. Contact us for pricing.
Die Cut Arrow Realtor Signs
16″ x 22″ Custom Arrow Design – contact us for pricing
Octagon Die Cut Signs
18″ x 18″ Custom Octagon or stop sign shaped corrugated yard signs
Contact us for pricing.
Round Circle Die Cut Signs
Custom die cut circle signs are available in two sizes: 16″ round and 18″ round.
Contact us for pricing.
House-shaped Realtor Signs
For other real estate advertising products, click Real Estate Signs.
For other plastic yard signs, click Yard Signs.
Corrugated Plastic Signs
Printed on durable, corrugated, plastic material, these cheap lawn signs are guaranteed to last at least two years!
To support your cheap plastic signs, you can get wire stands (realtor frames). Choose among "Political," "Economy," and "Deluxe."
Create your own yard signage from the business printer maker of plastic yard signs! Turnaround time is generally two weeks, or longer for complicated orders. Other costs:
House-Shaped Realtor Yard Signs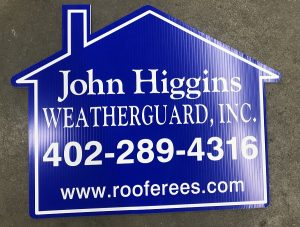 Value Prices on real estate signs and stands
23.5″ x 17.5″ House-Shaped Signs, #ST851
 
1 sided
2 sided
Each Add'l Color
(per color, per side)
Quantity
1 color
2 colors
1 color
2 colors
10
17.40
22.60
22.60
33.00
5.20
25
9.61
11.86
11.86
16.36
2.25
50
5.68
7.14
7.14
10.04
1.45
100
3.75
4.96
4.96
7.36
1.20
250
2.75
3.75
3.75
5.77
1.01
500
2.66
3.33
3.33
4.69
0.68

321
Artwork fee: $25 (non-refundable, pay before any artwork begins)
Shipping: Contact us for quotes. You must pay the artwork fee before we begin working on the artwork proof. All other costs are due before the signs are printed. For assistance, call us at 321-253-0424 or e-mail us at tencommandmentsigns@yahoo.com.
Realtor Signs
18″ x 24″ Two Sides
Quantity
1 color
2 colors
1-3
27.49
29.49
6
22.45
24.55
12
14.99
17.05
25
6.79
9.37
50
5.56
6.05
100
2.85
3.71
250
2.25
2.85
Frames/Wire Stands
Economy Wire Frames, 1/4 Steel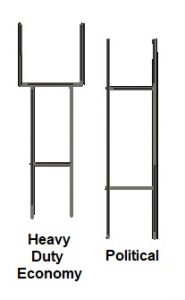 Frames/Wire Stands Quantity
50
100
250
"Economy" – Best Value (Preferred by Realtors) Qty 50 or More, See Diagram Above, Heavy 1/4 steel base. Call for smaller quantity pricing. 
4.15
4.00
3.50
50 is the normal minimum order.

VM/ST/BU 321
Real Estate Wire Frames
Political candidates typically use "Political" wire stands in large volumes as you see in your local area. These are for displaying a temporary sign not commonly used by Realtors. Minimum order is 50. This is the standard political wire stand found every where. See our "Political" wire frames here.
Realtors prefer the "Economy" real estate frame. The base is thick, heavy 1/4 inch gauge steel rods that resist bending and very durable. The upper portion is standard 9 gauge steel to handle the standard coroplastic signs and is 10 inches wide and 30 inches tall. The base is made from a thicker steel 1/4 inch. See diagram above. The base wire frame is about twice the size of the wire frame of a standard political wire stand that are in your neighborhood. Very sturdy and strong. Resistant to heavy winds. See diagram above.
The "Economy" version is our high volume best selling steel frame for realtors. They will endure for months and will not bend under heavy winds. Minimum order is 50. Highly Recommended. Good quality best value, and our best seller.
---
Plastic Sign Stakes – For Real Estate or Business
A wonderful alternative to "H" wire stands, these plastic sign stands are made from high density plastic, reinforced with fiberglass and manufactured with a minimum of 90% recycled materials. The design of these stakes allows them to flex under wind load. Plastic Stakes have a simple, arched design incorporating a step for ease of installation. These plastic sign stands won't rust, have no sharp edges and no oil which is sometimes found on H wires. Plastic stakes are a "green" alternative to conventional steel wire stakes and cost less to ship. Available in black only. Minimum order is 50 stakes and shipped in multiples of 50. Durable.

Plastic Sign Stakes
Price per Stake
Quantity
50
100
150
Sign Stakes
Black only
$1.92
$1.65
$1.12
Call for larger quantities

321/usa
These Window Clip Sign Holders easily slide onto most any car or truck window.
Quantity
30
60
90
Black Only
3.50
3.33
3.11
30 in Box

321
5% Off Bumper Stickers, with $250 Yard Sign Order
Your Custom Design, also up to 10% off Bumper Sticker Magnets
Bumper Stickers
Small signs size 12×18 Sign Company Click here for inexpensive prices on small signs.
Realtor Yard Signs – Quality Plastic
Our high quality plastic Realtor yard signs normally last 3 years in southern climates. The frames or wire stands of sign styles listed on the previous page will be more durable in holding up to high winds.
Plastic Real Estate Signs
Our cheap price guarantee on plastic real estate signs is cheaper than the internet competition.
(Formerly Heritage Advertising, Inc.)