Hooded Sweatshirts
Hooded Sweatshirts, also called Hoodies, are pullover sweatshirts with hoods and available in two popular weights: 7.75 ounce and 9 ounce.  Heavyweight 10 ounce is also available; contact us for pricing. Hoodies are a popular promotional item.
We have many standard colors of sweat shirts. Ash gray is our most popular color.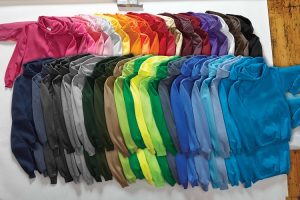 Hoodie Hooded Sweatshirt
Prices below are for standard adult sizes in Small, Medium, Large and Extra Large. Additional charges apply for other sizes.
Please call or email us for pricing for quantities larger than 244 shirts.
Hoodie SweatShirts Pricing
Click here for current pricing on Hooded Sweatshirts
Not all colors are available in all sizes. Contact us for your individual needs!
Hooded Sweatshirts and T-shirts are available from name brands including Jerzees, Hanes, Gildan, and Port Authority. Some name-brand Sweatshirts and T-shirts (especially Hanes) may cost more than the listed website price.
If you need a specific brand name, contact us for pricing. We have low prices. Call us and let us give you a quote. Telephone: 706-374-0710
Other Charges
Non-refundable artwork fee: $20 per order
Sizes 2XL and 3XL: additional charges apply. Contact us for pricing.
Note: Commercial shipping rates will be used for large quantities.
We can also print political t-shirts, church youth group tshirts, polo shirts, etc. Contact us for prices.
Let us print your Hooded Sweatshirts! For assistance, call us (see number below) or e-mail us at info@SouthernHospitalityCustomPromos.com.
Don't need a Hooded Sweatshirt? Be sure to check out our Crewneck Sweatshirts.
Are you having a Vacation Bible School? Call us for special prices for VBS and other church activities.