Plastic Window Signs
A great alternative to bumper stickers and decals – Suction Cup Plastic Window Signs
Currently Not Available
Our same great Suction Cup Window Signs printed on heavy 22 point high density white poster board are now available in plastic too! Suction Cup Plastic Window Signs cost less than window decals and are more effective. These signs hang from a window by a strong suction cup.
Suction cup window hangers are sure to be noticed with your promotional business or campaign message. People are more willing to place one of these signs on their window with a suction cup instead of a bumper sticker that is more permanent.
Plastic Window Hangers come in approximately 5″ x 5″ size and are custom printed on .020 thickness flexible white matte plastic.
Suction cups are included, but not attached. Please note: Product is not for use by children under 12 years of age.
Plastic Window Hangers can be written on with a ball point pen. These Window Signs are ideal for schools with parent pick-up. Give each student's family plastic window signs to display name of student being picked up and have enough for grandparents too or anyone else authorized to pick up student.
Give us a call (706-374-0710) for a FREE quote.
Available Shapes for Plastic Suction Cup Window Signs
Diamond Shape
Item #LCWS300
Square Shape
Item #LCWS301
Round or Circle Shape
Item #LCWS302
Stop Sign Shape
Item #LCWS303
Ribbon Shape
Item #LCWS304
Shield Shape
Item #LCWS305
Football Helmet Shape
Item #LCWS306
Paw Shape
Item #LCWS307
House Shape
Item #LCWS308
Heart Shape
Item #LCWS309
Daisy Shape
Item #LCWS310
Click here for current pricing on Plastic Suction Cup Window Signs. Please Note: Due to the volatile economy, prices may change without notice.
If acceptable artwork cannot be provided, additional art charges will apply.
Standard PMS Color Chart for Window Signs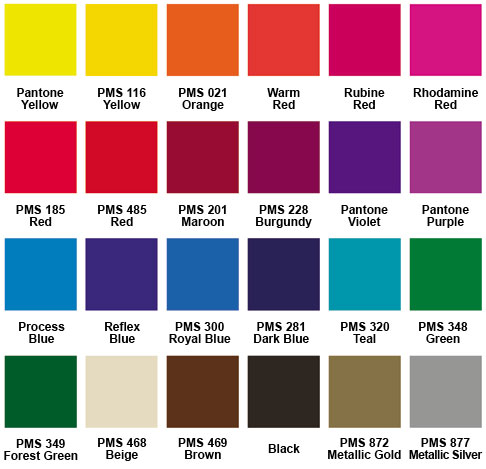 No PMS charge for standard colors. For custom PMS color match, add an additional charge of $40 per color.
Made in U.S.A. label is available upon request – no charge.

For Suction Cup Window Signs printed on heavy 22 point high density white poster board, be sure to see our Printed Window Signs with Suction Cups
And for stock designs of ribbon window signs, such as God Bless America, Support Our Troops, Breast Cancer Awareness, see Stock Ribbon Suction Cup Window Signs