Palm Cards or Push Cards for Political Campaigns
Political campaign push cards are printed on 10 pt. white card stock. Use palm cards to print your campaign platform and conveniently pass along to voters. Eye-catching full color imprint.  Create your own memorable designs! They also make great post cards for mailings. You can also add a back imprint to provide more information or create a postcard. Great for canvassing or direct mail.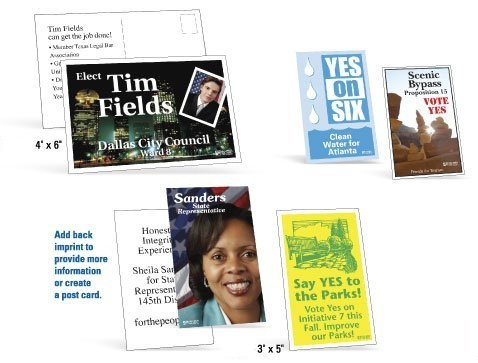 Need a custom size? Give us a call for pricing.
Please Note: PRICES CHANGE UP AND DOWN EVERY DAY due to world affairs.  We cannot keep the prices current.  CALL OR EMAIL FOR CURRENT PRICING.
Size
Quantity
250
500
1,000
1,500
2,500
5,000
10,000
3″ x 5″
Item #GL96253
full color front
2.39
1.31
.79
.53
.39
.25
.18
4″ x 6″
Item #GL96353
full color front
2.40
1.34
.80
.55
.41
.26
.18
All Sizes
Additional full color
back
.50
.28
.16
.12
.09
.06
.03

123
An artwork fee of $15 is due before artwork begins.
Made in USA and Union Made.
Custom shapes are also available. Contact us for more information.
For another great campaign product, be sure to see our Door Knob Hangers.
Heritage Signs, Frames and More, LLC