Numbered Die-Cut Parking Permit Decals
Inside Windshield Parking Stickers in Popular Shapes
Die-Cut Parking Permits for schools or businesses are made in shapes of ovals, circles, footballs, and other common shapes. Each parking sticker can be customized and numbered to meet your requirements. Beginning and ending numbers can be specified.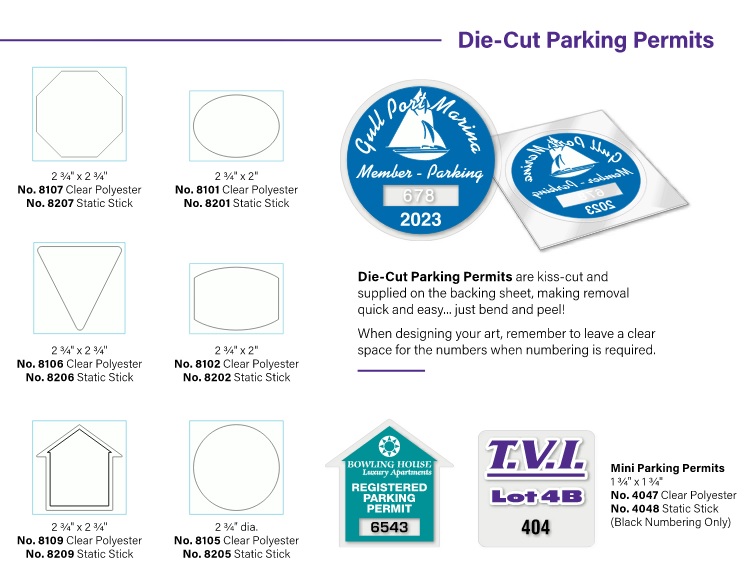 Die-Cut Parking Permit Stickers
All Items Use Face Adhesive
Die-Cut Municipal Stickers are kiss-cut and supplied on the backing sheet, making removal quick and easy… just bend and peel!
Please Note: PRICES CHANGE UP AND DOWN EVERY DAY. We cannot keep the prices current. CALL OR EMAIL FOR CURRENT PRICING.
Parking Permits – Face Adhering
1 Color plus White Background
125
250
500
1000
1500
2500
5000
Die-Cut Clear Polyester
2.22
1.27
.72
.44
.37
.27
.19
Die-Cut Static Stick
2.40
1.39
.79
.47
.35
.31
.21
Each Additional Color
1.18
.64
.34
.19
.15
.12
.07
Optional 7/32″ Consecutive Numbering (Black or White)
.52
.32
.21
.18
.17
.13
.11

ST223
A $20 art and set up charge applies. Please identify repeat orders.
Die-Cut Municipal Stickers
Screen-printed on clear polyester or static stick vinyl. Your choice of color on a white background.
White is included in the base price of the decal.
Production Time: Approximately 8 working days after proof approval if consecutively numbered.
Die-Cut Parking Permits Optional Services:
Color Match: Add $49.00 per color to be matched.
Numbering: Consecutive numbers are 7/32″ high and printed in black on a clear background. If white consecutive numbering is required, please specify. Please specify beginning and ending numbers when ordering. Additional charges shown in price chart above.
Number Sequence Change: We will change the numbering sequence for $11.00 per each change.
Copy/Color Changes: Copy or color changes are available at the combined quantity price plus $46.00 per each change. Copy and color changes cannot be combined on the same order. Item number and material must remain the same on entire order. Each change must be in multiples of 125.
Art Preparation: Prices shown include factory art preparation of straight-line copy set in our standard type styles.
Heritage Signs, Frames and More, LLC
(Formerly Heritage Advertising Inc.)
Telephone: 321-253-0424
Email: HeritageSignsLady@yahoo.com