Advertising with Custom Printed Handheld Signs
Our handheld signs customized with your printed message – are great for when a yard sign is too big but a hand fan is too small. They are like having billboards on 12″ sticks. These large handheld signs are great for political rallies or other special events.
We offer many style and shapes of handheld signs. Give us a call for assistance in selecting the one that is best for you and a free quote. We also offer assistance in generating your customized message.
These signs made from 22 pt. white poster board with a 12″ wooden stick or handle. The handle is exposed on the backside of the sign. (See below for double-sided or sandwiched signs.)
Shapes and Sample Designs of Handheld Signs
| | | |
| --- | --- | --- |
| Hand Signs 12″ Round Circle | #1 Hand Signs | 8in. x 16in. Hand Signs |
| 8in. x 12in. Rectangle | 4 in. x 19 in. Rectangle | |
Stock Shapes
Custom Imprinting Spec: An additional $35 per color, per side non-refundable artwork charge must be paid before work can begin. Add an additional $45 charge for logos and/or photos. If acceptable artwork cannot be provided, additional art charges will apply. We provide proofs to be sure the end product fits your specifications.
Imprinted Hand Signs
1-side/1-color – Quantity
250
500
1000
2500
5000
12″ Round Circle
12″ Star
11″x15″ Number 1
1.11
.77
.66
.55
.46
8-1/2″x11″ Rectangle
8″x12″ Rectangle
7-5/8″x14-1/2″ Hand
4″x19″ Rectangle
.98
.73
.59
.50
.41
8″x16″ Rectangle
1.02
.75
.62
.53
.44
Each Additional Color
.32
.17
.11
.08
.06

120
Sandwich Style Handheld Signs
Sandwiched handheld signs are available also in the same shapes as above except for the star shape. These are two sided hand signs glued with stick sandwiched in between two pieces of poster board. Custom print your message on both sides for twice the impact.
Hand Signs – Printed Quantity
Sandwiched Signs/1-color
250
500
1000
2500
5000
12″ Round Circle
11″x15″ Number 1
1.92
1.45
1.16
1.03
.92
8-1/2″x11″ Rectangle
8″x12″ Rectangle
7-5/8″x14-1/2″ Hand
4″x19″ Rectangle
1.79
1.32
1.03
.93
.81
Each Additional Color
.36
.24
.18
.11
.10

120
All hand signs are imprinted on white poster board and liquid laminated for a high gloss finish.
Standard Imprint Colors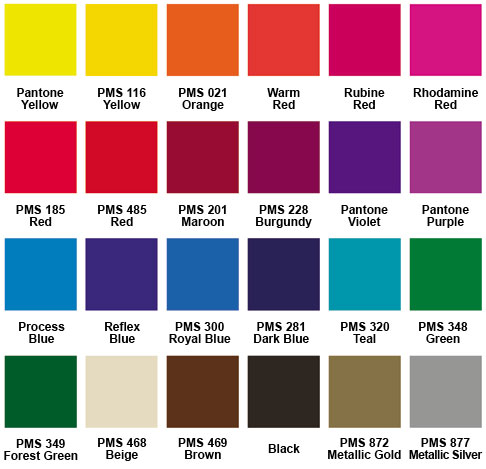 For custom colors (colors other than what is shown available), please provide PMS #. Additional $20.00 charge per custom color applies.
Hand Signs, More to Choose From
A Hand Sign is basically a large hand fan. See different choices of large and small hand fans, with your printed logo.