Compressed Sponges with Custom Imprint
Just add water and see what happens! Compressed Sponges with custom imprint are 1/16″ and grow to 1/2″ when wet. Make for great mailing campaigns or giveaways! Long-lasting and dishwasher safe. Use compressed sponges with your custom imprint in your mailers.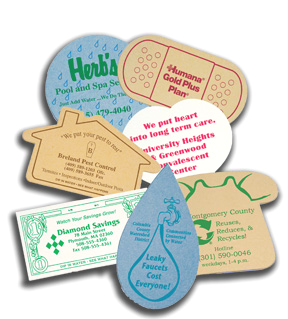 Made with cellulose fiber derived from wood pulp and plant fiber. With your imprinted message, compressed sponges are a great advertising value. Personalized sponges have had great success when used in mailers and are very effective when given to any home.
Be sure to soak up on this great advertising item!
Give us a call (706-374-0710) for a FREE quote.
Available Compressed Sponge Colors:

(Sorry, white is no longer available at this time.)
Click here for current pricing on 4″ Size Compressed Sponges
Click here for current pricing on 5″ Size Compressed Sponges
Personalized Compressed Promotional Sponges
Choose from many different shapes in 4″ and 5″ sizes.
4″ Sponge Shapes
Available Sponge Shapes in 4″ Size
4″ Compressed Sponge Shapes include: Apple, Bandage, Butterfly, Circle, Cloud, Diamond, Ducky, Ear, Fish, Flame/Water, Flower, Foot, Football, Frog, Heart, House, Kidney, Light Bulb, CFL Bulb, Ohio, Oval, Paw, Peach, Piggy Bank, Pop Bottle, Rectangle, Ribbon, Square, Star, Telephone, Triangle, Dollar Bill.
5″ Sponge Shapes
Available Sponge Shapes 5″ Size
5″ Compressed Sponge Shapes include: #1, Apple, Arrow, Bandage, Balloon, Barrel, Buffalo, Bulldozer, Bus, Butterfly, Car, Car Battery, Cat, Cell Phone, Smart Phone, Cement Truck, Chef Hat, Church, Circle, Cloud, Coffee Cup, Computer, Wide Computer, Cowboy Boot, Cowboy Hat, Crab, Crown, Dog, Dog Bone, Donkey, Donut/CD, Dollar Sign, Dump Truck, Eagle, Ear, Elephant, Fire Helmet, Fire Hydrant, Fish, Flower, Flame/Water, Foot, Football Helmet, Gas Pump, Ghost, Hand, Hand (Thumbs), Heart, House, Jar (narrow), Jar (wide), Key, Leaf, Light Bulb, CFL Bulb, Lips, Lotion Bottle, Megaphone, Milk Jug, Mortar/Pestle, Motorcycle, Music Note, Nest Egg, Pennsylvania, Oval, Paw, Peach, Piggybank, Pill, Pineapple, Pizza/Pie, Propane, Rat, Rectangle 4×6, Rectangle, Recycle, Recycle Bin, Ribbon, Schoolhouse, Shield, Shamrock, Shopping Bag, Tote Bag, Slot Machine, Splat, Square, Stop Sign, Star, Suitcase, Swiss Cheese, Talk Bubble, T-Shirt, Teddy Bear, Telephone, Texas, Tissue Box, Tooth, Tree, Tractor Trailer, Trash Can, Delivery Truck, Turtle, USA, Van, Wedding Cake, Whale, Yacht.
Imprint Colors
Due to different materials and different background colors, the imprint colors are only a representative sample. We cannot guarantee an exact match when printing 4-Color Process.
Standard Imprint Colors: Black, White, Process Blue, Reflex Blue, Warm Red, Cool Grey 8, Yellow (012), Orange (151), Red (185), Burgundy (201), Pink (231), Purple (267), Blue (282), Teal (320), Green (343), Green (347), Brown (497), Silver (877) Gold (872), 4-Color Process. White ink available on dark rubber colors. We offer PMS color match as close as possible for an additional cost.
Tag line "DIP IN WATER * SEE WHAT HAPPENS" can be added. Be sure to ask for it if you want it printed.
Quality Pledge. We promise the best quality and will provide you with a reputable product that will fulfill your advertising needs. Honesty is the best policy and we realize that word of mouth advertising from producing a quality sponge, jar opener, discount bumper sticker or one of our other fine products is best.